Wittenborg News
Get updated on the latest news from Wittenborg.
The new web portal optimizes the remote control of coffee machines.
..
Wittenborg coffee machines now offer the option of selecting beverages in a total secure, touchless mode, thanks to the new, free Coffee APPeal

..
The series of premium semi-automatic coffee machines from Wittenborg has been designed to offer a complete selection of hot wonderful drinks.
..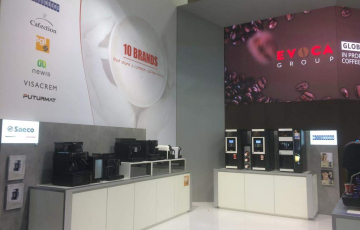 EVENTS
15
March 2019
Hamburg Messe und Congress, Hamburg Messe und Congress, Hall B1.EG Stand 205
EVOCA Group flies to Germany for INTERNORGA, the annual leading exhibition in Europe for the hotel, restaurant, catering, baking and confectionery industry. A five-day event full of news and presentations, in which more than 1,300 exhibitors and 96,000 visitors from Germany and the rest of the world will meet to be inspired by the latest industry trends.
At Hall B1 EG - booth 205, EVOCA will welcome visitors with the best of its HoReCa and OCS offer.
..
Intelligent coffee machines – how is that possible?  Evoca Group has always been determined to make machines that are as environmentally friendly as possible...
EVENTS
06
June 2018
Fieramilano City, 6th-9th June 2018 - Pav 3 Stand C61 F56
After the acquisitions done in 2017, the integration of the brands Saeco, Gaggia, Ducale, Cafection, the birth of the new brand Newis and the corporate rebranding, EVOCA will be present at Venditalia with the most complete offer in the industry and with many news.   
..